Dr Seuss Font Generator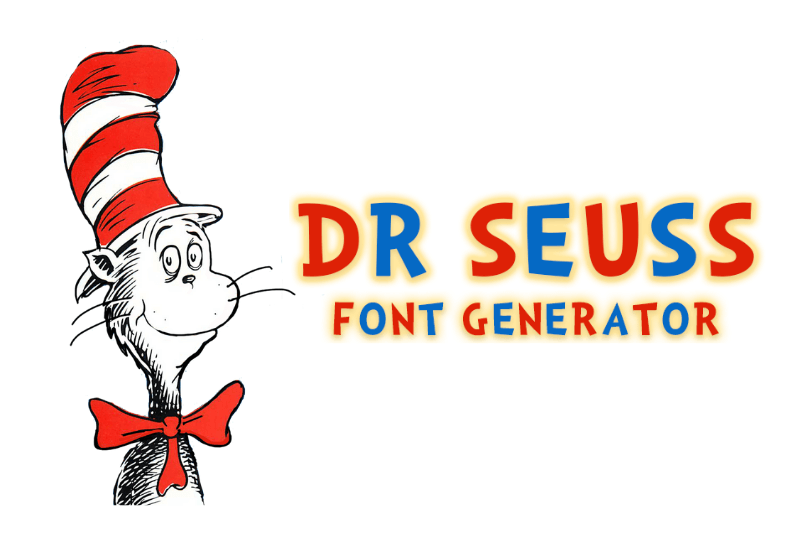 Dr. Seuss, the pen name Theodor Seuss Geisel, was a renowned American author and illustrator best known for his whimsical and imaginative children's books. With classics like "The Cat in the Hat," "Green Eggs and Ham," and "Oh, the Places You'll Go!," Dr. Seuss captivated young readers and sparked their creativity with his unique storytelling and distinctive illustrations. His books often featured memorable characters, playful rhymes, and important life lessons, making them beloved by children and adults alike.
About Dr. Seuss Font
The font used in Dr. Seuss's books is instantly recognizable and synonymous with his literary legacy known as " Century." It reflects the whimsy and charm of his illustrations and stories. The typeface features playful and slightly uneven letters, each with a distinctive tilt, creating a sense of movement and lightheartedness. The Dr. Seuss font mimics the hand-drawn style often used by Dr. Seuss in his illustrations, making it an integral part of his books' visual appeal.
The Century font is not only used in his published works but has also become popular for various educational and creative purposes. It has been incorporated into posters, educational materials, and even children's birthday party decorations, bringing the magic of Dr. Seuss to life beyond the pages of his books.
Dr. Seuss Font Generator
The Dr. Seuss Font Generator is a delightful online tool that allows users to create their custom text in the whimsical style of Dr. Seuss's lettering. This font generator has become a favorite among teachers, parents, and fans who wish to add a touch of Dr. Seuss's charm to their projects and activities.
Using the Dr. Seuss Font Generator is a fun and easy experience. Users can simply input the text they want to transform into the Dr. Seuss font, and with a click of a button, their words instantly appear in the playful and recognizable style associated with Dr. Seuss's books. The generator often offers customization options, allowing users to adjust the font size, color, and alignment to suit their creative vision.
Conclusion
Dr. Seuss's creative genius extends beyond his writing and illustrations to the font associated with his works. The Dr. Seuss Font Generator allows fans to perpetuate the joy and wonder of his stories, creating a lasting connection with his beloved characters and inspiring young minds to embrace the joy of reading and imagination.
Write Your Text
Pick Font Size
Choose Text Color
Choose background Color
Text Preview
Fonts Pool text Generator is Awesome tool.
Fancy Font Generator
---
Generate Text Using More Font Styles
Text generated by us for you