Gold Font Generator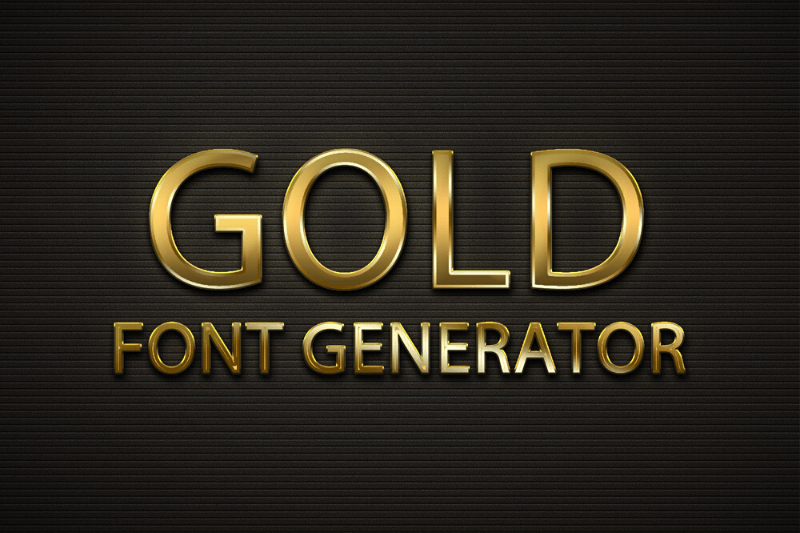 Gold, the precious metal synonymous with luxury and opulence, has long been associated with wealth, success, and grandeur. Its gleaming appearance and radiant allure have inspired various creative endeavors, including typography. With their shimmering and extravagant designs, gold fonts add a touch of elegance and sophistication to any design that incorporates them. They are popular for projects that convey prestige, glamour, and exclusivity.
About Gold Font
The gold font typography often features bold and elaborate letterforms resembling the intricate designs found in traditional calligraphy and ornamental scripts. The letters are embellished with decorative elements, flourishes, and intricate details that mimic the visual appeal of gold. The typography exudes a sense of luxury and grandeur, capturing the essence of the precious metal it represents. Gold fonts are often chosen for designs related to high-end products, luxury branding, event invitations, and awards ceremonies.
Gold Font Generator
The gold font generator has emerged as a valuable tool. Using the gold font generator is a user-friendly process. Users can input their desired text, select the font style, adjust the size, and instantly preview the results.
Additionally, the generator provides options to apply gold textures or effects to the letters, enhancing the overall luxurious appearance.
The gold font generator offers convenience and versatility, enabling designers to infuse their projects with radiant and lavish gold typography. Whether it's creating elegant wedding invitations, designing high-end product packaging, or crafting exclusive event posters, the font generator provides an accessible and efficient way to incorporate the opulent gold aesthetic into various designs.
Conclusion
The gold font generator serves as a valuable tool for designers and enthusiasts to embrace the elegance and allure of gold typography. Individuals can recreate the bold and elaborate gold font by utilizing the font generator, capturing the essence of luxury and prestige in their creative projects.
Write Your Text
Pick Font Size
Choose Text Color
Choose background Color
Text Preview
Fonts Pool text Generator is Awesome tool.
Fancy Font Generator
---
Generate Text Using More Font Styles
Text generated by us for you