Harry Potter Font Generator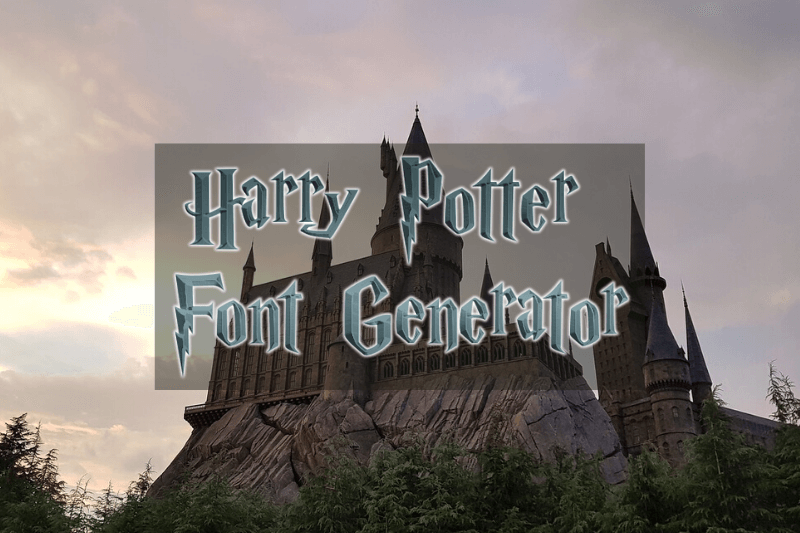 Harry Potter, created by J.K. Rowling, is a beloved fantasy series that has enchanted readers of all ages. The magical world of Harry Potter transports us to Hogwarts School of Witchcraft and Wizardry, where Harry and his friends embark on thrilling adventures filled with spells, potions, and mystical creatures. With its rich storytelling, memorable characters, and captivating universe, Harry Potter has become a global phenomenon, capturing the hearts and imaginations of millions.
 About Harry Potter Font
"Lumos" is indeed a distinctive font designed by Sarah McFalls in 2000. It is inspired by the typography used in the Harry Potter movies and has a similar style to the font used for the Harry Potter logo and titles. It captures the magical and whimsical atmosphere associated with the series. "Lumos" is widely available for personal use and can be found on various font websites.
Harry Potter Font Generator
The Harry Potter Font Generator is a popular online tool that allows you to recreate the Hogwarts Wizard font style for your creative projects. The Harry Potter Font Generator typically offers various customization options, allowing users to adjust the generated text's size, color, and style. By inputting their desired text, you can instantly transform it into the iconic Hogwarts Wizard font, adding a touch of wizardry and authenticity to their creations.
Write Your Text
Pick Font Size
Choose Text Color
Choose background Color
Text Preview
Fonts Pool text Generator is Awesome tool.
Fancy Font Generator
---
Generate Text Using More Font Styles
Text generated by us for you