Avengers Font Generator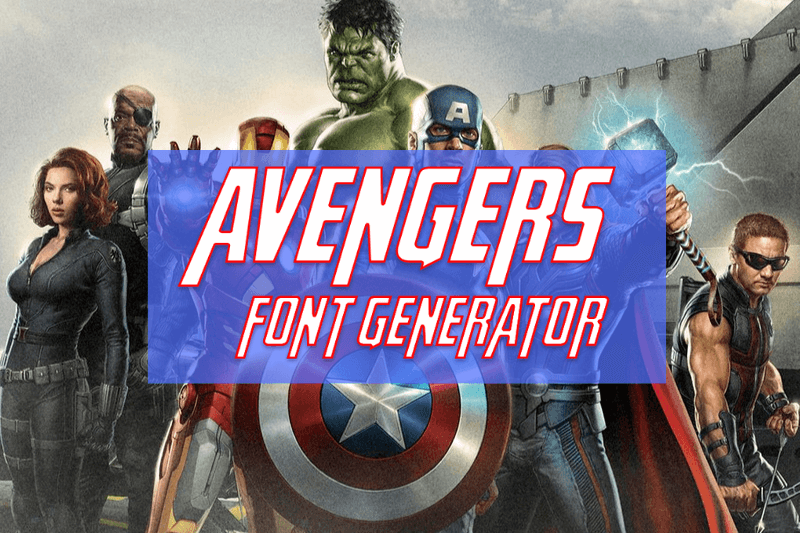 The Avengers is a trendy superhero team featured in Marvel Comics and the Marvel Cinematic Universe (MCU). Comprising iconic characters such as Iron Man, Captain America, Thor, and more, the Avengers have captured the imagination of audiences worldwide. The team's distinctive logo, which includes the Avengers name in a unique typography, has become an integral part of their branding.
About Avengers Font
The Avengers logo font is known as " Heroes Assemble." This custom typeface was created for the Avengers franchise, providing a distinct and recognizable look. The Heroes Assemble font features bold, angular letterforms with sharp edges, conveying strength and power. The letter "A" in the Avengers logo has a unique design with extended lines, adding a dynamic element to the typography. The font's aesthetic aligns perfectly with the heroic and action-packed nature of the Avengers, contributing to their visual identity.
Avengers Font Generator
Avengers font generator is available online for fans and enthusiasts of the Avengers who wish to incorporate the franchise's typography into their projects. This generator allows users to easily generate text that resembles the Avengers font style. Users can input their desired text, customize options such as font size, color, and effects, and instantly preview the generated text. Avengers font generators provide a convenient way for fans to create personalized designs, graphics, or messages that capture the spirit of the Avengers. Whether for fan art, cosplay, or promotional materials, these generators offer a user-friendly solution to infuse projects with the heroic aesthetic of the Avengers franchise.
Write Your Text
Pick Font Size
Choose Text Color
Choose background Color
Text Preview
Fonts Pool text Generator is Awesome tool.
Fancy Font Generator
---
Generate Text Using More Font Styles
Text generated by us for you