Heartbeat Font Generator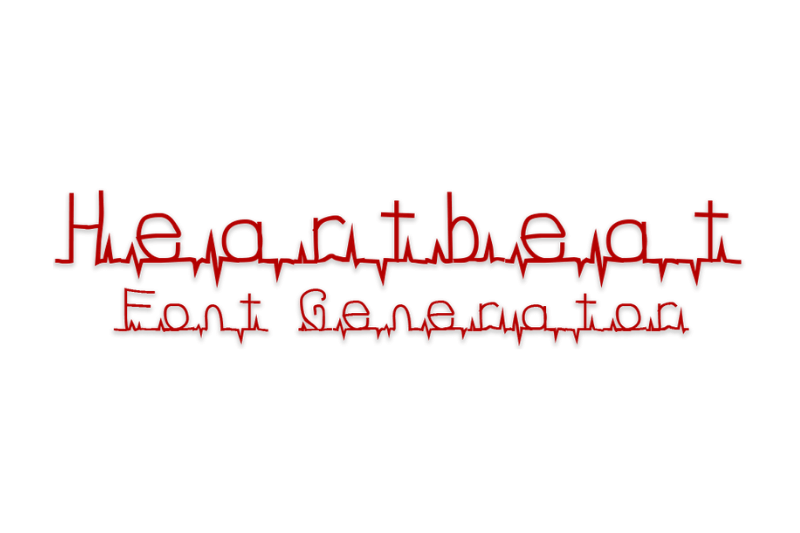 Heartbeat font is a captivating and artistic typeface that embodies the essence of a rhythmic and pulsating heartbeat. It is a unique and visually striking font that draws inspiration from the fluid motion of a heartbeat monitor, making it an ideal choice for designs related to healthcare, medical themes, or anything associated with the metaphorical concept of life and vitality.
The Heartbeat font's distinctiveness lies in its design, which features smooth curves resembling the ECG's peaks and troughs (Electrocardiogram) graph. The font's appearance conveys a sense of movement and energy, making it a popular choice for creative projects seeking to evoke emotions and add a touch of vitality to the text.
About Heartbeat Font
The Heartbeat font is a custom-made typeface designed specifically to reflect the rhythm of a heartbeat. Its letters are carefully crafted to form a seamless flow, mimicking the characteristic waves seen on an ECG monitor. The smooth and undulating curves in the font create a sense of movement and evoke a feeling of life and liveliness.
The Heartbeat font is often used for designs related to healthcare, medical presentations, fitness-related content, and projects seeking to express themes of love, passion, and vitality. Its distinct style sets it apart from traditional fonts, allowing it to add a creative and energetic touch to various applications.
Heartbeat Font Generator
The Heartbeat Font Generator is an online tool that allows users to create custom text in the Heartbeat font style. This font generator has gained popularity among designers, healthcare professionals, and individuals who wish to incorporate the unique and eye-catching Heartbeat font into their designs. The generator may offer options to adjust the font size and spacing or add color gradients, allowing users to customize the font to match their design preferences.
Conclusion
The Heartbeat font's unique design and symbolic representation of life's rhythm make it a compelling choice for creative projects. The Heartbeat Font Generator further enhances its accessibility and utility, allowing users to effortlessly incorporate this visually engaging font into various designs, making their text come alive with a heartbeat's vibrant and pulsating essence.
Write Your Text
Pick Font Size
Choose Text Color
Choose background Color
Text Preview
Fonts Pool text Generator is Awesome tool.
Fancy Font Generator
---
Generate Text Using More Font Styles
Text generated by us for you New Walt Disney Font - FF New Walt Disney Font - FF