Papyrus Font Generator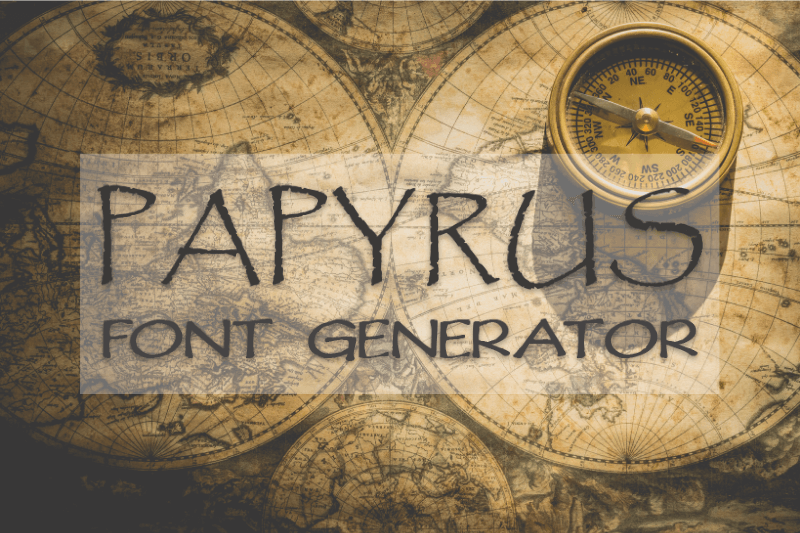 Papyrus is a widely recognized and often controversial font that has gained both popularity and criticism over the years. Its unique, rustic, and somewhat ancient appearance has made it popular for various design projects.
About Papyrus Font:
The Papyrus font, designed by Chris Costello, was initially released in 1982. It draws inspiration from ancient Egyptian hieroglyphs and was intended to evoke a sense of historical mystique and authenticity. The font features irregular strokes, rough edges, and a hand-drawn aesthetic, which contributes to its unique charm. Papyrus gained significant attention when it was used as the title font for the blockbuster film "Avatar." However, its subsequent overuse in various contexts led to widespread criticism and the perception of being an overused and clichéd font choice.
Papyrus Font Generator:
The Papyrus Font Generator is an intriguing tool for designers and enthusiasts who wish to explore the Papyrus style or create custom typography with a touch of ancient flair. This online generator allows users to generate text in the style of Papyrus by simply entering their desired text. The generator offers various options to customize the typography, including different variations of the Papyrus font, sizes, and effects. By using the Papyrus Font Generator, users can experiment and create unique typographic designs inspired by the distinctive aesthetic of Papyrus.
Conclusion
The Papyrus font has a unique appeal due to its historical and handcrafted aesthetic. The Papyrus Font Generator serves as a platform for fans, enthusiasts, and designers to explore and create custom typography inspired by this distinctive font style. While the font has garnered criticism for its overuse, it still holds a place of interest and fascination for those seeking to experiment with its rustic and ancient charm. So, embrace the Papyrus Font Generator, unleash your creativity, and let your typography reflect the allure of this iconic font.
Write Your Text
Pick Font Size
Choose Text Color
Choose background Color
Text Preview
Fonts Pool text Generator is Awesome tool.
Fancy Font Generator
---
Generate Text Using More Font Styles
Text generated by us for you