Spongebob Font Generator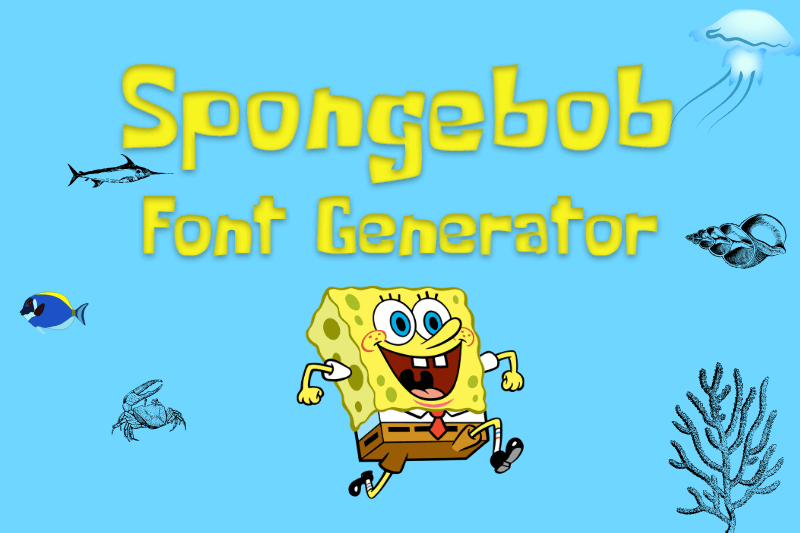 SpongeBob SquarePants is a beloved animated television series that has captured the hearts of audiences worldwide. Created by Stephen Hillenburg, the show follows the adventures of SpongeBob and his friends in the underwater city of Bikini Bottom. Known for its humor, colorful animation, and catchy theme song, SpongeBob has become a cultural phenomenon appealing to children and adults alike.
About SpongeBob Font
The SpongeBob SquarePants logo is known as "SpongeBob." It is a custom typeface created specifically for the show's branding. The SpongeBob font perfectly captures the whimsical and playful nature of the series. The letterforms are rounded, bubbly, and irregular, resembling the shape and texture of underwater bubbles.
The SpongeBob font features a mix of uppercase and lowercase letters, each character having a unique personality. The irregular strokes and varying letter sizes give the typography a hand-drawn and slightly chaotic feel, mirroring the quirky and unpredictable nature of the show's characters and storylines. Overall, the SpongeBob font is instantly recognizable and has become synonymous with the series itself.
SpongeBob Font Generator
SpongeBob font generator typically offers a range of customization options. Users can input their desired text and instantly see it transformed into the SpongeBob font style.
Whether it's for creating fan art, designing graphics, or simply adding a touch of SpongeBob's charm to their work, these generators provide a convenient and fun way to embrace the SpongeBob font style.
Conclusion
The SpongeBob font is an integral part of the show's visual identity. Its bubbly and irregular design perfectly captures the whimsy charm of SpongeBob SquarePants. Thanks to SpongeBob font generators, you can now infuse their creations with the iconic typography that has become synonymous with the beloved animated series.
Write Your Text
Pick Font Size
Choose Text Color
Choose background Color
Text Preview
Fonts Pool text Generator is Awesome tool.
Fancy Font Generator
---
Generate Text Using More Font Styles
Text generated by us for you