Sports Font Generator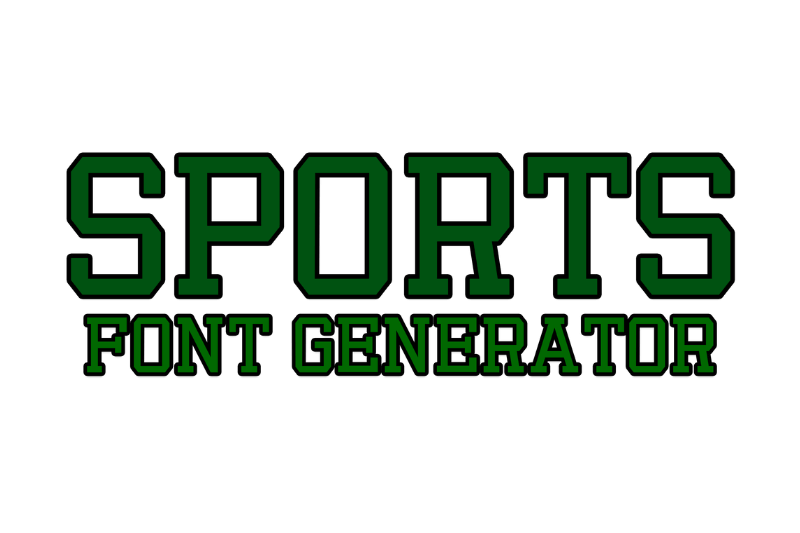 Sports fonts are a popular typography style widely used in various sports-related designs and branding. These fonts are designed to convey a sense of athleticism, energy, and competitive spirit. Sports fonts are commonly seen in sports team logos, jerseys, posters, and other sports-themed materials. They play a crucial role in capturing the essence of sports and creating a visual identity that resonates with fans and athletes alike.
About Sports Font
The most commonly used font is Varsity. When it comes to sports fonts, a wide range of typefaces are commonly used. Many sports fonts feature bold and strong letterforms to evoke a sense of power and intensity. Sans-serif fonts are often preferred due to their clean and legible appearance, ensuring the text is easily readable from a distance. Sports fonts incorporate additional elements such as sharp angles, diagonal lines, or stylized serifs to enhance the athletic feel further. The font choice depends on the specific sport and the desired aesthetic, with fonts ranging from classic and traditional to modern and futuristic.
Sports Font Generator
Sports font generators are valuable tools for enthusiasts, sports teams, or individuals looking to create customized sports-themed designs. These online generators allow users to generate text in a sports font style easily. Users can input their desired text, select options such as font style, size, color, and effects, and instantly preview how the text will appear. Sports font generators offer a convenient way to create personalized sports logos, posters, or social media graphics without the need for graphic design skills or software expertise. They provide a quick and accessible solution for capturing the dynamic spirit of sports typography.
Write Your Text
Pick Font Size
Choose Text Color
Choose background Color
Text Preview
Fonts Pool text Generator is Awesome tool.
Fancy Font Generator
---
Generate Text Using More Font Styles
Text generated by us for you