Twin Peaks Font Generator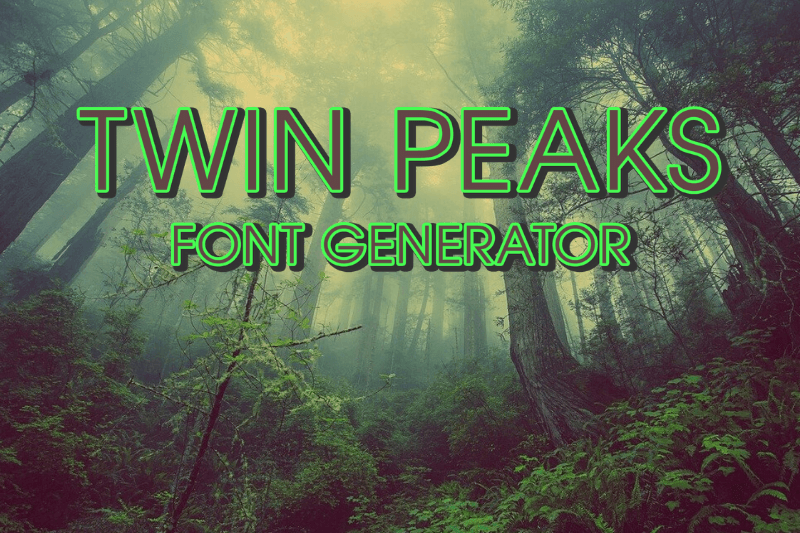 Twin Peaks is a cult classic television series created by David Lynch and Mark Frost. Known for its mysterious and surreal storytelling, Twin Peaks has captivated audiences with its intriguing characters and atmospheric setting. The series explores the dark secrets of a small town, uncovering a web of interconnected mysteries. In addition to its compelling narrative, Twin Peaks is recognized for its distinctive typography, which adds to its unique visual identity.
About Twin Peaks Font
The Twin Peaks font is called " Avant Garde Gothic Condensed." This typeface was specifically designed for the series and reflected the surreal and enigmatic nature of the show. The Lynchian font features tall, narrow letters with varying widths and unconventional letterforms. It has a hand-drawn quality with a touch of irregularity, giving it a distinct artistic flair. The typography captures the essence of the Twin Peaks universe, enhancing its eerie and atmospheric ambiance. The Lynchian font has become an iconic element of the series and is instantly recognizable to fans.
Twin Peaks Font Generator
For fans and enthusiasts of Twin Peaks who wish to incorporate the show's unique typography into their projects, the Twin Peaks font generator is available. This online tool allows users to generate text that resembles the Twin Peaks font style effortlessly. Users can input their desired text, customize options such as font size, color, and effects, and instantly preview how the text will appear. Twin Peaks font generators provide a convenient way to infuse designs, graphics, or messages with the distinctive visual aesthetic of the series. They allow fans to evoke the surreal and mysterious atmosphere of Twin Peaks in their tive endeavors without requiring advanced design skills.
Conclusion
The Twin Peaks font plays a significant role in capturing the essence of the series' surreal and mysterious world. The Lynchian font's unique and irregular letterforms contribute to the show's distinctive visual identity. Twin Peaks font generators offer fans a user-friendly way to incorporate the series' typography into their projects, allowing them to immerse themselves in the atmospheric and enigmatic universe of Twin Peaks.
Write Your Text
Pick Font Size
Choose Text Color
Choose background Color
Text Preview
Fonts Pool text Generator is Awesome tool.
Fancy Font Generator
---
Generate Text Using More Font Styles
Text generated by us for you